Every day it seems the government in Washington does something new that targets women, whether it is health care or birth control or Neil Gorsuch or a tax bill that skews very much against middle class households, many of which are headed by women. But in 2017, women have begun fighting back. Trump's inauguration was greeted with nationwide marches protesting his election and political beliefs. Over the summer, Bill Cosby finally came to trial for one in a series of rapes he allegedly perpetrated, a trial that, though it resulted in a hung jury, has been scheduled for re-prosecution. And, most significant of all, the year's fourth quarter saw the rise of the #MeToo movement and the subsequent outing of sexual misconduct by Harvey Weinstein, Garrison Keillor, Al Franken, Charlie Rose, Louis CK, Jeffrey Tambor, Roy Moore, Kevin Spacey, Dustin Hoffman, Brett Ratner and many others, including several U.S. congressmen.
It is a rising tide of empowerment for women across the country, and it comes in a year that has also seen important films made by female directors like Katherine Bigelow, Patty Jenkins, Dee Rees, Sofia Coppola, Valerie Faris, Angela Robinson, and Greta Gerwig, whose "Ladybird" is in line for possible Oscar nods both for best film and best director.
Lain Kienzle, a young Brooklyn filmmaker, is seeking to ride this wave with a new short film called "The Mouse and the Lion," a story set in 1920s Virginia and about a young woman who, after the death of her abusive husband, finds a stranger collapsed on her door step in the middle of a blizzard. As he regains his strength, their growing bond unearths secrets each would rather keep hidden.
"It's about moving on after an abusive relationship, and reclaiming your identity and power as a woman," Kienzle said. "It was a time of real upheaval in the world and in the US in particular. A lot of men had left to fight in the war, which was much more technologically advanced than any war previous. So a lot of the soldiers came home with what was named
shell shock
, but we now know as PTSD.
"And while the men were gone, women were taking on increased roles at home and professionally, so when the men came back, the women didn't necessarily want to go back to how things were with a newfound taste of freedom."
Kienzle feels that, despite what is happening in Washington, right now is a very important and positive time for women.
"I think this has been brewing for so long that it was kind of inevitable. I think women in general are exhausted. We're all tired of being told to smile, or patted on the head and sent on our way. We're tired of watching male director after male director allowed to make movies that bomb and still have lucrative careers. I think having an administration that clearly doesn't support women, and watching a few brave women speak out about abusive industry titans in such an assertive way really opened the floodgates."
I think having an administration that clearly doesn't support women, and watching a few brave women speak out about abusive industry titans in such an assertive way really opened the floodgates. — Lain Kienzle
Being overlooked for being female was a significant part of Kienzle's early career. After significant festival success even as a high school student in Lake Forest, Illinois, Kienzle moved on to study film and TV production at NYU, and has been working in the industry ever since graduation. She has worked in various capacities for several television programs including "Quantico" and "Blacklist," as well as her current job, script supervisor.
Traditionally, that role has been largely filled by women. In old photos from Hollywood studios, there's always one woman by the camera, and that's the script supervisor. And that's still very much the case. I don't think I've worked on a single movie where the director, cinematographer or assistant director were women. So a lot of times, it's these men standing in a circle, and I'm trying to interject from just outside the circle.
This, however, has not meant that all or even most directors have held her back.
A lot of directors love their script supervisors and really make them creative partners. And a lot of directors I've worked with do value what I do. A lot of actors immediately want to meet the script supervisor because that's the crew member who's going to save them in a lot of cases. So for me, it feels more like a way for women to really work their way into a position of power and get close to the action. That said, I've been told by men to "go back behind monitor where you belong" and "I'm a man and I know women do this action all the time, so that's what the character's going to do.
With her own film, Kienzle is tearing down those norms.
"The other thing that's really important to me," she said," is that we're not only empowering women narratively, but professionally. Our team is majority women, and we're making it a point to hire a diverse and female heavy crew. We'd like to really put our money where our mouth is and support women and underserved communities of filmmakers in all aspects."
Serving this underserved community and seeking to create more opportunities in the industry for creative women is precisely the goal of
Cinefemme
, an LA-based organization founded fifteen years ago and now headed by Michelle Kantor.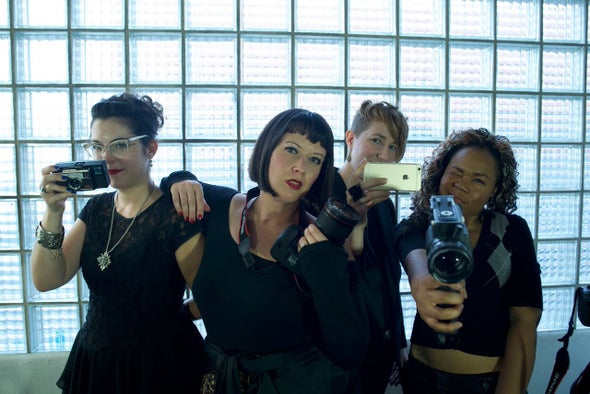 DUSTY SAUNDERS
Members of Cinefemme: Jenny Payne, Michelle Kantor, Rory Gory, Lagueria Davis
"We are witnessing a galvanizing moment in history where for the first time, women's voices and stories are being heard and believed (and reported en masse by the press)," Kantor said, and that plays directly into the mission of Cinefemme, which was "founded on the belief that there is a much-needed shift that needs to occur in the hearts and minds of our global culture in challenging the socioeconomic systems that perpetually marginalize our voices within the mainstream by excluding women from directing jobs, having inherent bias in terms of investment, and not updating the Equal Pay Act to close the wage gap."
Kantor's co-founder of Cinefemme agrees that this is a key moment in history for women in general. Katrina Parks, whose films focus on women's history, said, "I definitely feel like the election of arguably the most misogynist President has caused a lot of internal soul-searching, and that can be connected to activism. It feels good, but it's important to ask ourselves as women how did this happen. Clearly a lot of women voted for Trump. So, what is it inside women that makes them reject other powerful women? And what of the women who support the patriarchy by not standing up and defending people when they should? We are getting to the point as women where we are going to reject that kind of self-sabotage that can play into things."
I definitely feel like the election of arguably the most misogynist President has caused a lot of internal soul-searching, and that can be connected to activism. —Katrina Parks
At this moment especially, all of these women agree that it is critically important that women's voices are heard and listened to. As the only non-profit on the West Coast that exclusively incubates and fiscally sponsors women's projects
, Cinefemme occupies a very important niche in the movie-making industry. Kantor wants Hollywood to recognize that, by telling all of its stories through the lens of a man's point of view, it is skewing the way our culture is seen.
Parks' current documentary,
The Women of the Mother Road
, examines some of these missing stories, in this case the stories of the many diverse women whose lives were lived along and impacted by America's Road, Rt. 66. "When we think of Rt. 66," she said, "we typically think of Jack Kerouac or a man behind the wheel with a woman as a passenger, maybe with a bunch of kids in the back, so I wanted to expand that representation." She found tales of archeologists, anthropologists, artists, waitresses, politicians, and many others, over 75 stories in all about women whose lives centered on Rt. 66, and it is those stories that are now being told.
"The female auteur has altogether been lost in the cinematic narrative," Kantor said, "and we choose to instead revere alleged pedophiles like Woody Allen and Roman Polanski. I would rather put my dollars and attention on the overlooked and underserved artistic minority...which may in fact be a majority waiting to come out of the shadows."
Organizations such as Cinefemme have to exist, and have to grow stronger, in order to correct a fundamental flaw in the system that stems from long-standing perceptions that are not, in fact, true. Jenna Payne, Cinefemme's treasurer and program director, points out that new statistics show that, in almost every category, women auteurs have as great or greater returns on investment as compared to their male counterparts, yet the Powers That Be in Hollywood don't seem to see these studies. "And it's much worse for women of color," she points out, which is why Cinefemme makes it a point to seek out a diverse group of women each year to sponsor.
One such woman is Kayden Phoenix, a young Latino filmmaker currently working on the creation of what she terms the world's first Latina superhero,"Jalisco." Being young, and having what she calls "the luxury of having a unisex name," Phoenix has not yet experienced noticeable discrimination because of her gender of which she is aware. "It might just be my being naïve," she said, "but I don't see myself as different than males." Nonetheless, Phoenix celebrates the current feminist political climate. "I'm so happy males are being held accountable. It's too bad the females that spoke out decades and years ago have been overlooked and shunned."
Kantor pointed out that young male filmmakers have inherently come from a place of privilege, and are often the ones chosen to be mentored by established men in power who are inclined to bring up those who remind them of themselves. "I forget who said it, but the quote 'Don't let the song within you die unsung' springs to mind. We need to empower women to get their creative works into the cultural narrative. Until all women of talent and ambition, who may not necessarily have the privilege of inner connections or wealth, have a chance to see their dreams of being a director realized, then I won't stop working on this issue. We need these voices in our lives, we need these stories to be told, and we need women to do it. We are losing out on incredible creative works by not recognizing and funding the works of female artists."
We need these voices in our lives, we need these stories to be told, and we need women to do it. We are losing out on incredible creative works by not recognizing and funding the works of female artists. ---Michelle Kantor
Payne notes that one of the most significant projects Cinefemme offers, Dinner With Dames, seeks to provide a solution to this issue. "The hot topic of diversity in film has many people pointing fingers without offering many practical solutions," she said. "Cinefemme invites Hollywood to tackle the gender diversity issue by sitting down for dinner with up and coming female writers, directors, producers, and other skilled department heads." The goal, of course, is to find a way of getting around the "old boys' network" and level the playing field.
With women like Lain Kienzle, Katrina Parks, Kayden Phoenix, Michelle Kantor, whose documentary,
Red Star
—about her parents' daring escape from Iron Curtain Czechoslovakia (her father
scuba-dived
across a river!)—is in the editing stages, and Jenna Payne, who is working on a short film fictionalizing the life of her moonshining great-grandfather, out there working on telling the stories they want to tell, it seems that the next generation of female filmmakers is well on the way. But Kantor knows it isn't enough. As it is with all non-profits, funds are not easy to find, and Kantor is concerned about the effect the new tax bill might have. She has hope, through, that 2018 will bring with it an angel or two who will help her to sponsor far more than the 7-10 women at a time she can handle now.
"Our mission at Cinefemme is to get as many of these women telling the stories they want to tell in the mainstream, ultimately creating a mindset shift in our culture through empathy, and bring about greater equality for all of us. We do it by supporting each other, by challenging the narrative myth that there isn't enough, and by choosing inclusivity over elitism. When we are successful, we bring other women up with us, and we praise our male allies who wield their power for good. This is the road to success, for all women and men in society, and we will do it together. And we will all be better for it."
To contribute to Cinefemme or to the individual works of the artists mentioned, go to the
Cinefemme
website. Lain Kienzle also has a current
crowd-funding campaign
.